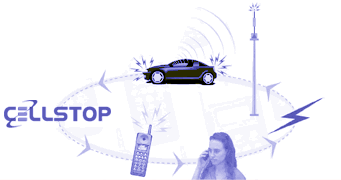 The smart alarm in your car phones you if the following scenarios occur.
A car door has been opened.
The ignition tampered with.
Your car is being towed away.
Your car battery is running low.
From your personal mobile phone you have the following SMS abilities.
Kill the ignition.
Turn on your headlights.
Sound the horn or hooter.
Kill the fuel supply.
Send a simple SMS message "Where aRe yoU" and your car instantly sends you it's location address, speed, and where it is heading.
Send a simple SMS message "trip" and your car instantly sends you a trip report: distance traveled since it's last stop, time taken, maximum speed, idling time etc.
Send SMS instructions to your car to send you it's entire daily trip report, locations visited, stoppage times, maximum stops, no go zones etc.
CellStop is unique in that it closes the communication loop by giving the power to the owner to communicate with their vehicle using their own mobile phone. You don't need a call center anymore.